Make fly-aways a thing of the past and discover 72 hours of frizz control and smoothness with the newly renovated frizz fighting collection from Pureology.
A renovation of Pureology's Super Smooth range, the Smooth Perfection collection combines the best of smoothing, colour care and heat protection for a fast, anti-frizz solution – perfect for all types of coloured hair.
Each of the three new Smooth Perfection styling products is designed for a specific hair type. The Smooth Perfection Lightweight Smoothing Lotion provides lightweight frizz control and heat protection for fine to normal hair. The Smooth Perfection Frizz Fighting Serum is perfect for normal to thick hair. And for those with rebellious, coarse hair, the Intense Smoothing Cream delivers long-lasting control.
Constantly using high heat to tame frizz can weaken the hair's internal bonds and cause colour distortion. Smooth Perfection works to retain the integrity of colour-treated hair and protects strands from the colour-distorting effects of heat using Pureology's exclusive Thermal Anti- Fade Complex®.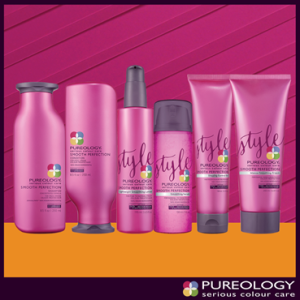 Smooth Perfection's heat-protective formulas not only shield your colour, they ease blow-drying, fight frizz and restore manageability for a perfect blowout and 72 hours of frizz control.