We're famous for being orange but for five weeks we are turning pink for breast cancer. What better reason to change hue than for this cause which affects each and every New Zealander in some way.
Until 20th May 2016 we'll be raising money to donate towards the research and development of a cure for breast cancer.
WAYS TO GIVE

We have loads of exciting ways to give and would absolutely LOVE your support! Keep posted to find out the different ways you can give.
1. Donate to our Givealittle page
We've set up a 'Givealittle' page for our True Grit x Breast Cancer Cure cause. Every little bit helps. Donate now!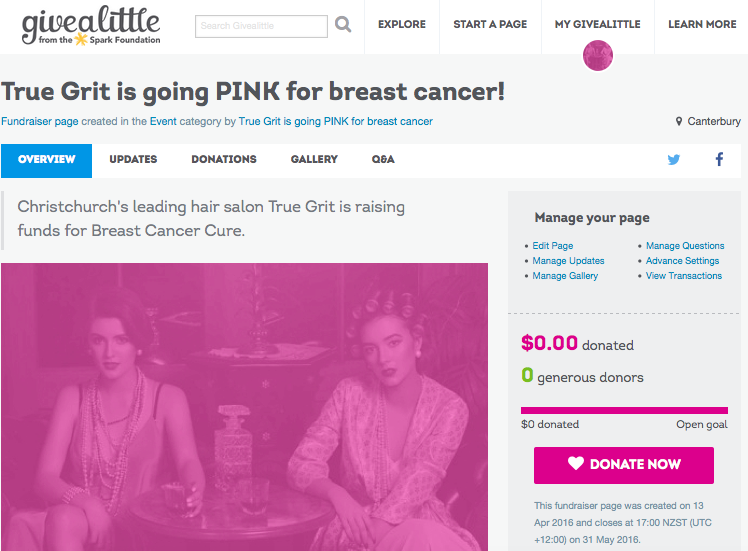 2. Buy a raffle ticket and you could win $3,480 worth of prizes
Yes, that's right, we have a raffle worth $3,480 up for grabs. Buy your raffle tickets at True Grit between now and 20th May 2016. Winner will be drawn in late May. Buy one ticket for $30, two for $50 or 5 for $100. Limit 300 tickets. Prizes include:
A 'Styling by Jacqui Victor' styling session (valued at $200)
A spa retreat at Total Body Concept (valued at $204)
Two flotation sessions from Cloud 9 Float Club (Valued at $190)
A Jeff Gray MINI for one month
A family portrait photography session with ETTA Images (valued at $375)
10 coffees at Tap and Grind (valued at $50)
A cut, colour and ProFiber treatment at True Grit (valued at $235)
20 yoga classes at Flow Hot Yoga (valued at $275)
A car service from Motor Works (valued at $250)
Profiber products (valued at $190)
Food vouchers at Baretta (valued at $150)
Three month membership and personal trainer session at Les Mills (valued at $450)
Youngblood cosmetics (valued at $300)
A night in the Junior Suite at Hotel Montreal (valued at $450)
A DermMate Skin Check at Moorhouse Medical Centre (valued at $80).
3. Shop and donate
If you purchase any pink product at True Grit $1 will go towards Breast Cancer Cure. AND if you purchase a pink make up product, Youngblood will also give $1 to the cause.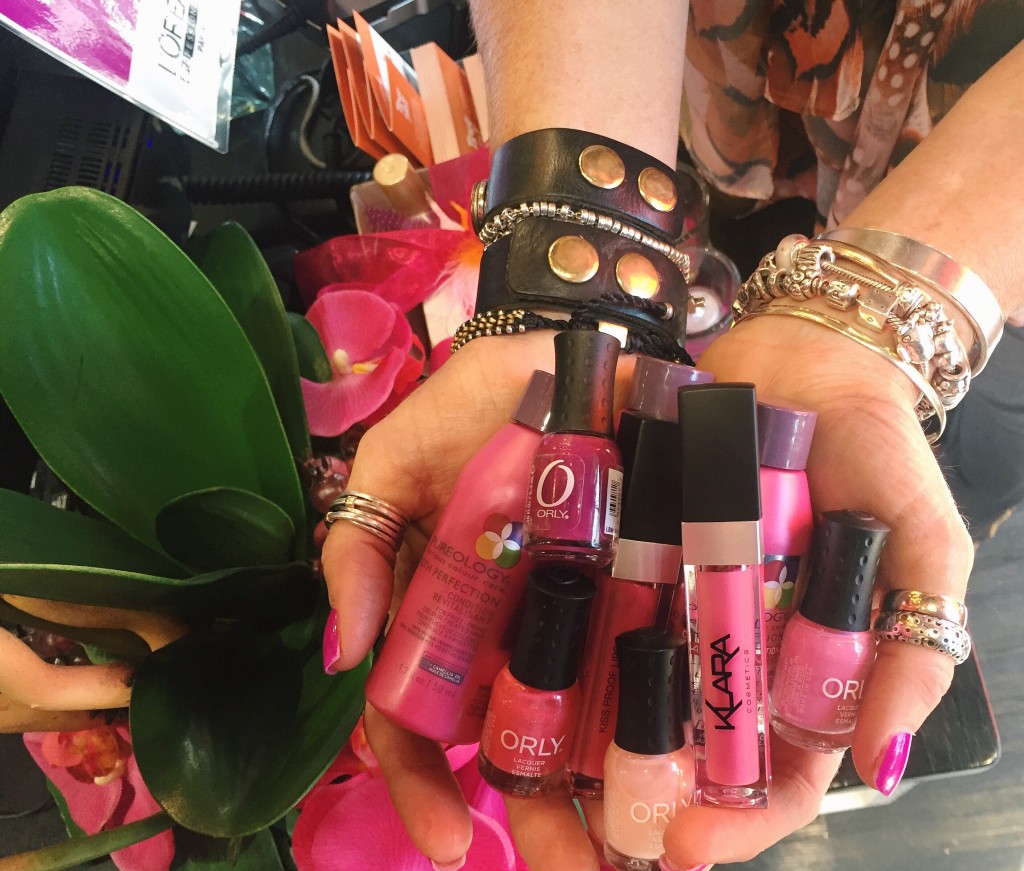 4. Treat yourself to a Profiber Ritual and we'll give $15 to Breast Cancer Cure 
For every Profiber Ritual at True Grit, we will give $15 to the cause.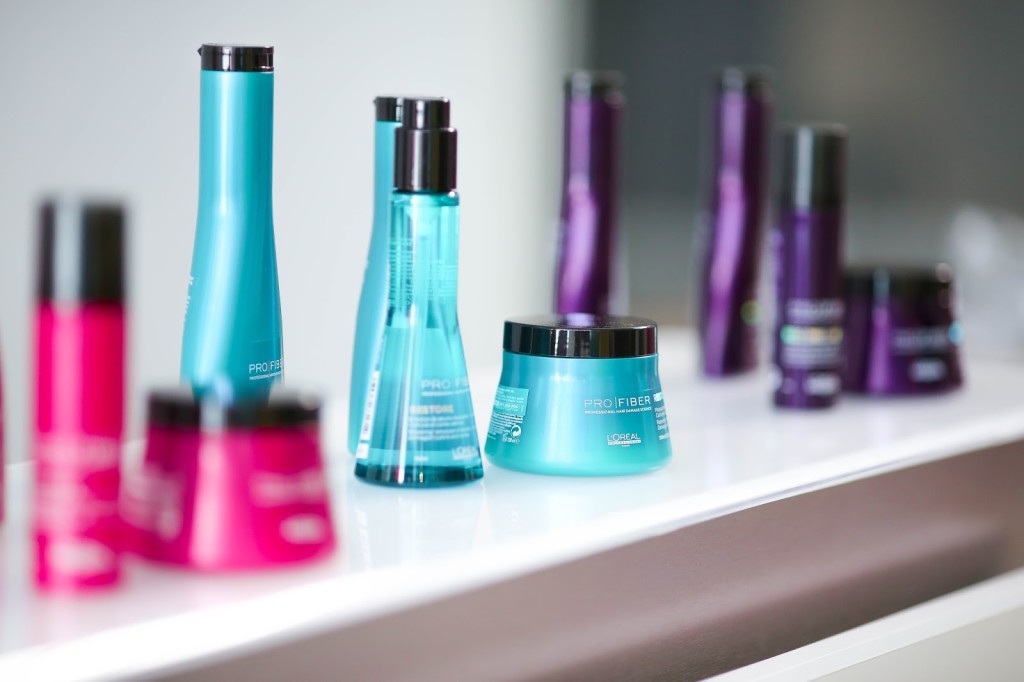 HOW ELSE TRUE GRIT IS CONTRIBUTING

Not only are we running a five week long campaign to raise awareness of breast cancer and the amazing Breast Cancer Cure organisation, but we are donating the money from a hair cut a day to the cause.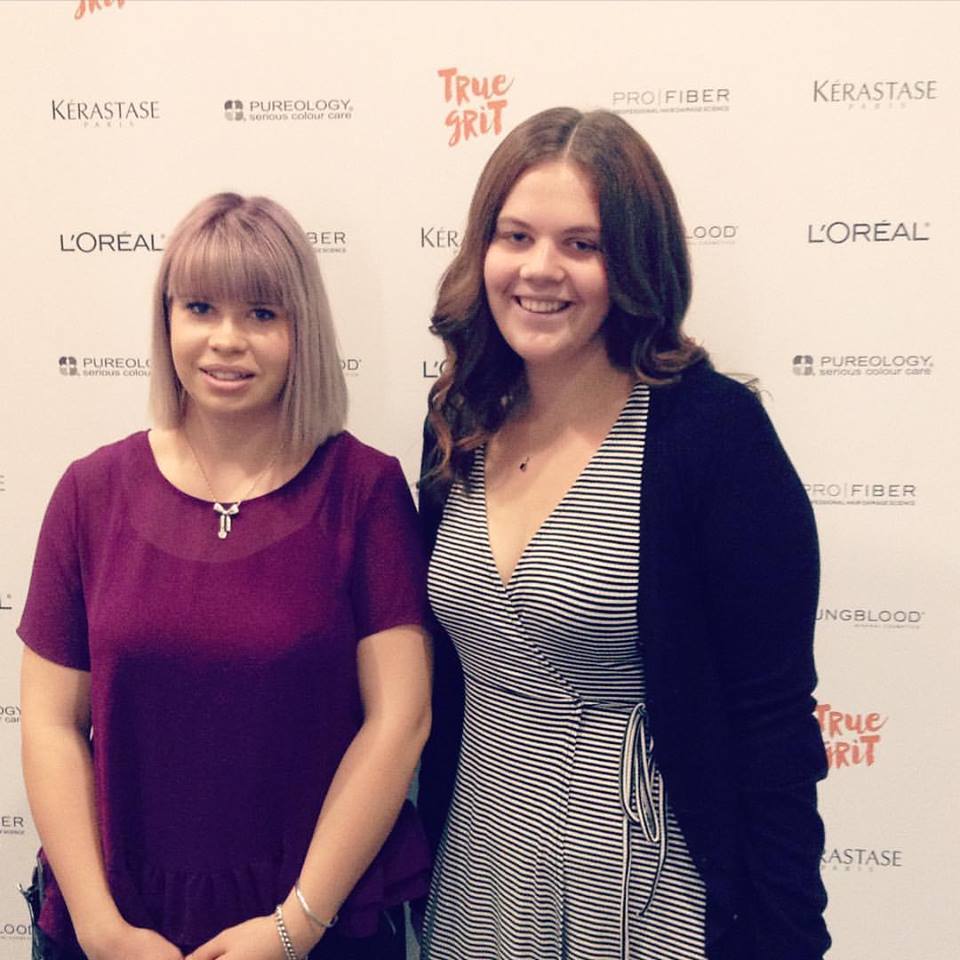 ABOUT BREAST CANCER IN NZ
New Zealand has the 7th highest incidence rate of breast cancer in the world of 1 in 9
With an incidence rate of 1 in 9 means 1 woman every 3 hours will be diagnosed, nearly 2 women per day will die from the disease
1 in 10 men will lose a mother, wife, sister or even daughter.
Breast cancer research receives no direct government funding
Breast cancer can kill; ONLY research can prevent it.

ABOUT BREAST CANCER CURE
Breast Cancer Cure is New Zealand's only not-for-profit organisation established solely to support research into breast cancer.  Funds raised are allocated to only the most outstanding and visionary research and researchers in New Zealand
Follow us on this journey to raise money for a cure and beat Breast Cancer in New Zealand!
THANK YOU TO OUR AMAZING SPONSORS!