There's nothing worse than artfully applying eyeshadow for the day, only to find it's faded into oblivion a few hours later. An eyeshadow that lasts the distance isn't easy to find, but Youngblood has created a dreamy pressed mineral eyeshadow that contains both a matte and a metallic shade, giving you two perfectly complemented colours in one handy compact.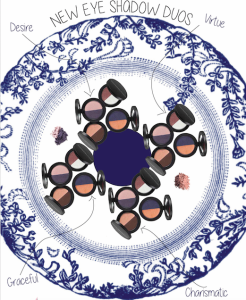 There are four different eyeshadow duos to choose from, and each duo can be used together to create a contoured look or on their own.
Desire contains a blue toned purple metallic and a lavender pink matte; Graceful is a cobalt blue matte paired with a shimmery peach tint; Virtue mixes a warm red metallic with a pale white matte; Charismatic is a perfect combination of a warm brown matte and a pale peach shimmer.
As with all Youngblood Mineral Cosmetics products, these eyeshadows are 100% cruelty free. They're also free from, parabens, oil and fragrance, so they won't irritate the skin. Even better, the main four ingredients are super easy to decipher, so you know exactly what's going on your skin and why.
Caprylic/Capric Triglyceride: This fatty acid is what gives the eyeshadow its silkiness. It has antioxidant properties and skin nurturing benefits, which make the eyeshadow suitable for sensitive and oily skin types.
Lauroyl Lysine: An amino acid derived from coconut oil- known for its skin conditioning properties.
Stevioside: Extracted from the stevia plant, gives the eyeshadow skin softening & smoothing qualities.
Caprylyl Glycol: This humectant has moisturizing characteristics- optimising performance and application.
How to apply:
Each eyeshadow duo can be applied dry for a soft, subtle look, or wet for a more dramatic look. Simply take an eyeshadow brush and apply directly to the eyelid.
$59.90 available at True Grit.