TRUE AWARDS
Did you know that every dollar you spend with us accrues in our computer system and works towards your True Awards?
True Awards Pamper Pack
At True Grit we like to give back to our valued clients to thank you for your loyalty. We do this in the form of our Pamper Pack*. Once you have reached the target, we will send you out a voucher for some pampering.
*The Pamper Pack is a 75 min experience designed to be used as a standalone appointment.
What your free Pamper Pack includes:
A hair and scalp analysis with our Kérastase Diagnostic Camera
A ritual to suit your hair and scalp needs, with a relaxig True Grit unique massage
A blow wave
L'Oréal SteamPod treatment
A refreshment of your choice
To help you on your way, we like to record every purchase with us, which is why if you pop into buy any hair care we always get your name so we can add your purchase to your file to go towards earning your award.
Start collecting your points today, we look forward to seeing you soon!
*This voucher is not to be used in conjunction with any other service
Concession Collection: Convenient and Cost Effective!
Save some cash by prepaying for your cut and finish appointments! So convenient! Prepay for 5, get 10% off. Prepay for 8, get 15% off. Prepay for 10, get 20% off! There are three levels of savings: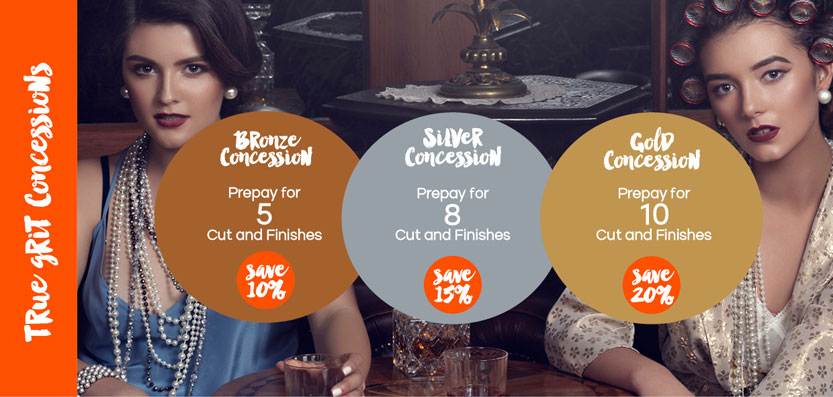 Perks of Concession Collection:
There is no expiry date on your prepaid appointments, so no rush to use them!
The appointments are with a Master Stylist or Style Director!
The saving frees up some extra money to spend on yourself, now that you're done with your Christmas shopping!
Introduce a friend and both of you will receive $25 off your next service!
At True Grit we believe that our best advertisement is you! To show our appreciation we offer Introduce a Friend cards, enabling you and a friend each to save $25 off your next hair beauty service.
Simply print off the linked PDF, or grab one next time you're in the salon.